AQUA Soft-Cleaner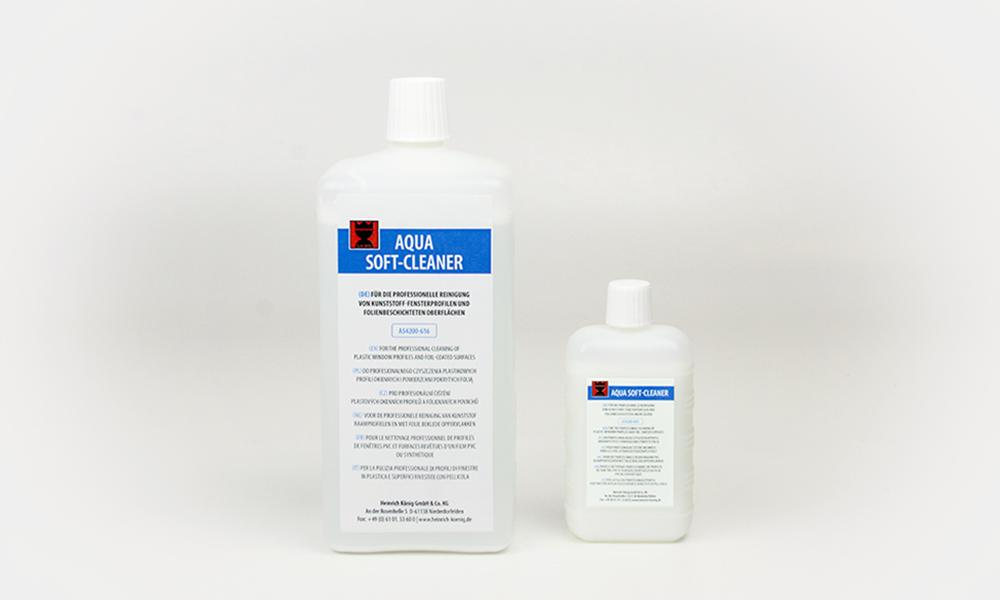 $4.95*
Content:
0.15 Liter
($33.00* / 1 Liter)
Available, delivery time: approx. 5-7 days
Product information "AQUA Soft-Cleaner"
FOR THE PROFESSIONAL CLEANING OF MATT AND SUPER-MATT FOIL-COATED SURFACES AND PLASTIC WINDOW PROFILES
Extremely thorough, extremely gentle and recommended by leading foil manufacturers: For cleaning foil-coated surfaces, we introduce the AQUA Soft-Cleaner from König. Thanks to its special formula, it shows its full capabilities especially on matt and supermatt foils (such as Skai®mattex or RENOLIT PX Matt) without changing the gloss level of the surface. The AQUA Soft-Cleaner also reliably cleans plastic window profiles (PVC white and colored) and painted, non-absorbent surfaces. In addition to marking lines, labels, adhesive residue and residues from protective films, the cleaner also effortlessly removes bitumen and butyl, foreign body abrasion (e.g. rubber) as well as emission deposits and construction dirt. And that, of course, both indoors and outdoors.
CLEANS HIGHLY EFFECTIVELY
MAINTAINS THE GLOSS LEVEL
AIRS OFF SLOWLY
NON-DISSOLVING WATER-BASED EMULSION
MAINTAINS THE SURFACE
ANTISTATIC
PERFECT FOR INDUSTRIAL USE
https://www.koenignorthamerica.com/media/39/bb/99/1693375072/AQUA-Soft-Cleaner_instruction-sheet-7Spr_230111.pdf
https://www.koenignorthamerica.com/media/ca/63/cb/1693373800/TSD_A54200_AQUA_Soft-Cleaner_2022-42.pdf